20 Nov 2020
Ambitious Hornets to apply for Betfred Championship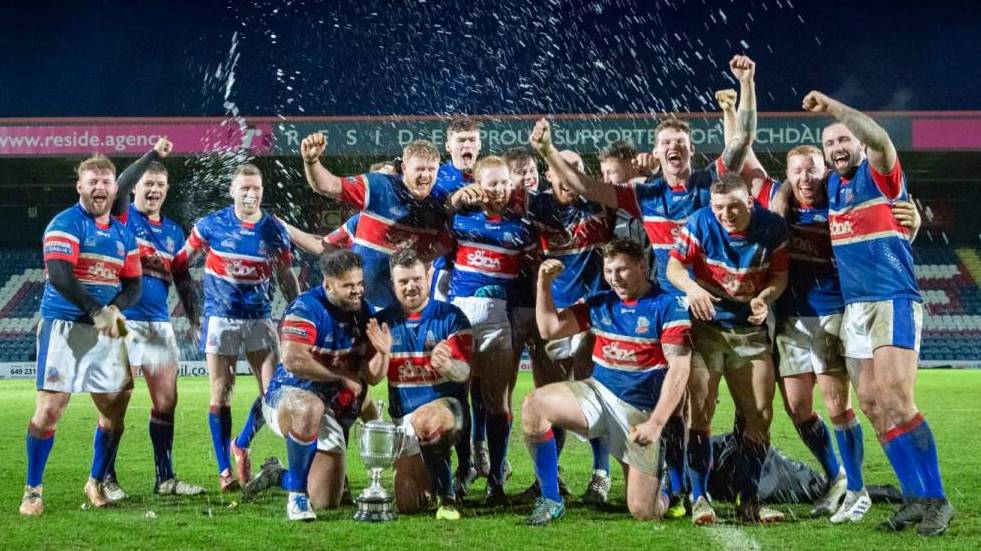 The club can confirm that we are applying to be the 14th team in the Betfred Championship for 2021.
Rochdale Hornets can confirm that we are applying to be the 14th team in the Betfred Championship in 2021 - and believe we have the perfect case on every front.
During the summer era Hornets have spent the majority of the time at Championship level, including notable success. During that period Hornets had a spell of finishing in the top three of the second tier for three consecutive seasons, with four-figure average attendances in each of them. The current owners of the club have started the process of reigniting that potential both in the club and the town of Rochdale, which has a population of 218,000.
During those three seasons of challenging for Super League, the coach of Hornets was Martin Hall and a key player was Matt Calland. The pair are now back at the club, with Calland having won a Championship title with Halifax in 2010 before building a coaching career within the town that has helped oversee the development of Super League stars Matty Ashton, Matty Lees and Jack Ashworth. This is a town rich in rugby league potential.
Hornets' partnership with Hopwood Hall College in Rochdale sees Calland's squad train at first-class facilities that have regularly been used as a base for the England national squad, such is their quality. The partnership has, and continues to create a pathway for students to train with the club and potentially earn themselves a first-team contract, such as current players Dan Nixon and Lee Registe.
Hornets have also worked hard to strengthen links with Rochdale Mayfield, one of the leading amateur clubs in the country with a proven record of developing top players, including Ashton and Lees. In recent years it has been possible to name a full 17 of Rochdale Mayfield-developed players operating in the professional game, with the likes of Callum Marriott and Liam Whalley now key members of Matt Calland's squad and helping to provide a significant proportion of local players in our team.
Now steered by an ambitious and experienced new board headed by Chairman Andy Mazey, the club has assembled a quality line-up for 2021 including Fuifui Moimoi, Sean Penkywicz and Shaun Ainscough. The likes of Rob Fairclough, Josh Jordan-Roberts, Danny Yates, Gavin Bennion and Joe Taira have all stepped down from Championship clubs to join us, excited about the vision laid out in front of them by the directors.
Off the field, the club works closely alongside the Rochdale Hornets Sporting Foundation, which was established in 2014 and does an incredible amount of development work in the town. In the last year alone 11,725 children in Rochdale received rugby league coaching in primary schools and 5,372 in secondary schools, with 5,000 listening to an action-packed rugby league presentation in assemblies. With ambitious plans inspired by the 2021 Rugby League World Cup, the Foundation and Hornets will strengthen the player pathway and drive rugby league growth across Rochdale and its neighbouring boroughs.
The club also runs both Wheelchair and Women's teams in their respective competitions, outlining an inclusive approach that underpins everything we do.
Our Crown Oil Arena home meets Super League standards - with a capacity of over 10,000 - and successfully hosted a sell-out 2013 Rugby League World Cup game between Fiji and Ireland, yet another indication of the town's considerable potential.
Then there is the club's rich history. Past Challenge Cup winners that were formed in 1871, next year Hornets celebrate our 150th anniversary, and we have already begun extensive plans to mark that by producing a special commemorative club crest.
Despite the difficulties that every rugby league club has endured in 2020, commercial partners new and old have been rushing to commit to Hornets and buy into the exciting vision laid out by its directors.
In conclusion, we believe that Rochdale Hornets is a Championship club in all but name at present - and would significantly add to the competition on and off the field in 2021.