29 Jun 2020
Crown Oil Arena: Pitch update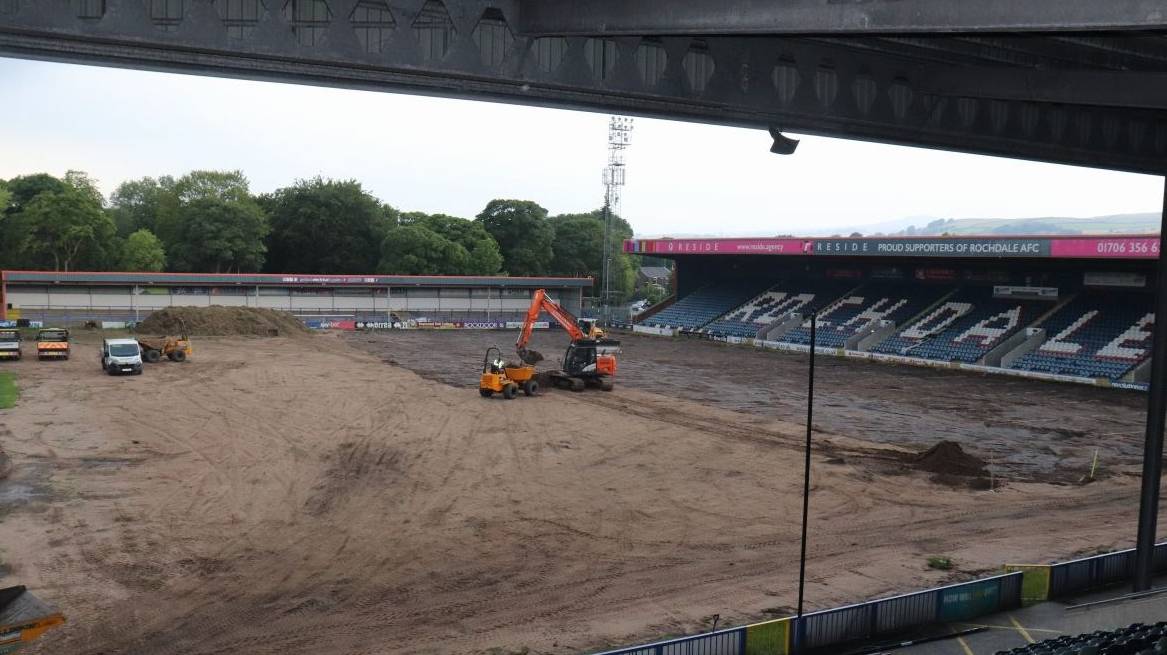 The club can provide the following update on the work at Crown Oil Arena.
Work has continued on the new pitch at the home of Rochdale Hornets and Rochdale AFC, today marking the third week of renovations.

Head Groundsman Richard Blackburn told Rochdale AFC: "Work started on Monday 15th June and the first job was to take off the top five inches, which included the Mixto layer of turf and everything else down to the ash layer underneath.
"This exposed hundreds and hundreds of drains below. The contractor who is in charge has been doing his job for 34 years and he can't see any reason why they haven't been working as they should, apart from the Mixto layer not allowing the surface water to drain through.
"All of the layers underneath the Mixto have been able to be refined to the same standard as if it had just come out of the quarry, which is taking place on the car park, so that it can be reused.
"The contractors then had to spend a couple of days finding the right levels for the new pitch, due to the old pitch being so uneven. There will be an ever so slight fall from the Main Stand to the Willbutts Lane side of the ground. This will hopefully keep any of the rainfall moisture away from the Main Stand side, which is historically the wettest side due to being in the shade for most of winter, but it won't be noticeable to the naked eye.
"The lasers, which are on tripods at each corner of the ground, tell the bulldozer how much should be scraped off the surface. The blade on the machine will fall or rise where it needs to with the guidance of the lasers.
"Once the levels are fine, we will address the drainage, which should start in the next week. The main drain is going down just in front of the Sandy Lane stand with laterals coming out towards Pearl Street at five metre spacings. There will then be secondary drainage in each of these to help drain the water away as quickly as possible.
"There will be a layer of sand on top which will be stitched 30cm deep by machine. This should help bind the surface with the roots to make for a lot sturdier surface that won't take too many divots.
"A stitch-pitch is being put in, which should always be pretty free draining. It should be firm and shouldn't dig up that easily, although that's not to say it won't dig up at all with our amazing rainfall!
"We should be in a miles better situation. Just having the drains working is the main thing for us. It will be good to have an eye on keeping it playing and looking well, rather than thinking "can we get the game on?", which is how it almost ended up for us."
Picture credit - Rochdale AFC