A New Era. A new way to support YOUR club.
Over the last 10 years Hornets supporters have played a critical role in funding our club's success. As we enter a new era, we wanted to provide a new way for supporters to continue to make a difference.
The Hornets Squadbuilder
The aim of the Hornets Squadbuilder is to raise vital funds, to be used solely to help towards cost of funding player signings and player contracts. All funds raised go directly into the Rochdale Hornets' players fund account. That means every penny you donate will be seen out on the field, to help us be as competitive as we can possibly be.
Sign up as a subscriber today – it costs from as little as £5/month. Any donations above that amount will be gratefully welcomed, but it is entirely at your discretion.
You could #BeTheDifference. The support of our fans is now more valuable than ever.
Hornets Squadbuilder will continue to provide funds towards the playing squad during the suspension to the season - and help us come back stronger and better.
If you can, please sign-up and continue to support us during this time.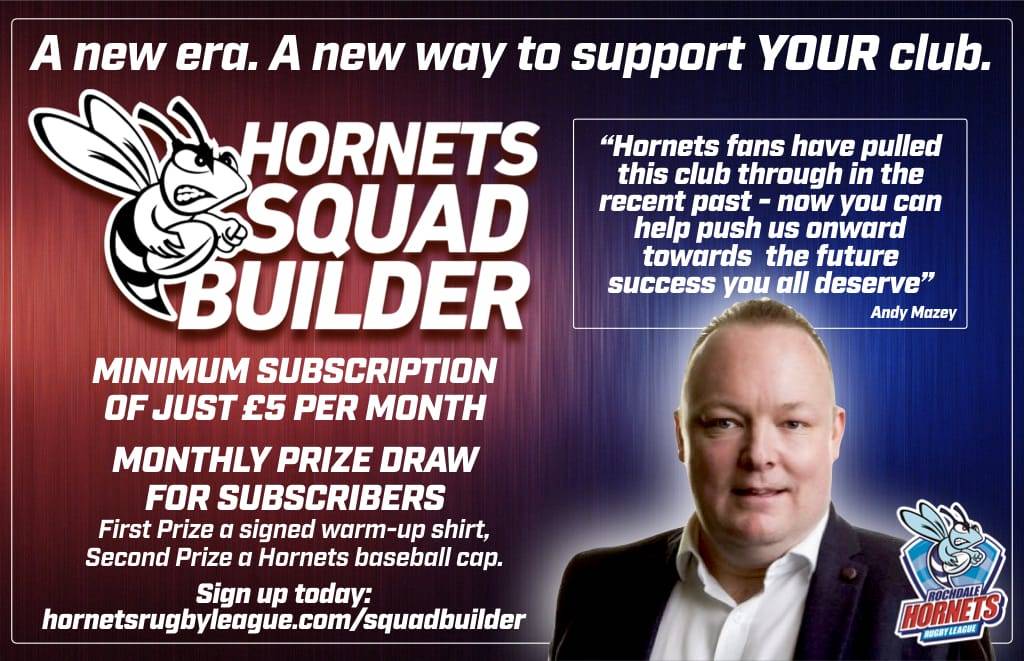 To sign up simply set up a Standing Order to our club account of £5.00 or more.
All money goes directly to the fund.
Santander
Acc Name - Hornets Rugby League Trust (you must type this exactly for you bank to recognise the account)
Acc - 01714489
SC - 09-01-54
Please use your surname as the reference.
Once set up please email info@hornetsrugbyleague.com to let us know you have subscribed. Your details will then be added to added to our system so that you can be entered into the monthly draws.
All Subscribers will receive an exclusive Squadbuilder pin badge.
PLUS Monthly draws prizes will include;
1st prize - Signed warm up shirt
2nd prize - A new Hornets baseball cap
3rd prize - A free ticket to the end of season awards
1. Will my money go directly to the club?
Yes, the money goes directly into our Santander Account, which is specifically ring fenced for the Squadbuilder initiative.
Santander - Acc name - Hornets Rugby League Trust, Acc 01714489, SC - 09-01-54
2. How much Investment are the club hoping to attract?
Theres no figure on it, but at £60.00 per year per subscriber we would hope to achieve £10,000 in the first year. Similar initiatives run by our competitors are reported to be around £20,000 per year.
3. Can I pay more that £5 per month?
Yes, the minimum is £5 per month but anything above this will help us invest in better players.
4. Can I pay at the club or over the phone?
Yes, but we are encouraging subscribers to set up standing orders in the first instance.
5. What will the money be sent on?
We can only spend the money on players. For example; Squadbuilder initiatives have helped secure the signatures of players like Gavin Bennion when moving to Swinton. We would always inform our subscribers how and who the investment is going towards. We view the Squadbuilder as a cherry on top, that allows us to bring in marquee players we couldn't usually afford.
6. Is the new Squadbuilder initiative a replacement for the old membership.
No, whilst memberships are no longer required, we are yet to decide if the club wishes to operate a membership scheme. We would engage with all 'members' and all fans, should we decide to revisit this.
7. Should I stop paying my old membership?
Yes, we have almost finalised the conversion with the FCA, but there is no longer a requirement to pay your membership fees.
8. I notice the Santander account details are the same as old membership account?
That is correct.
We have repurposed the Santander account which is only to be used for the Squadbuilder initiative. If you currently pay into this account for membership and now wish to be part of the Squadbuilder scheme then you have three choices; a. Do nothing we will auto enrol you into the Squadbuilder scheme. b. Change the subscription to a minimum of £5.00 and email us to confirm. c. Cancel your standing order as you are not interested in supporting this scheme.
9. When will the monthly draws take place?
We will do the draw at some point in the first week of the calendar month. The first draw will take place from May 2020.
10. How will I be notified if I'm a winner?

Our superb media team will put the information on the website and through social media. We will also be able to email the winners, but don't forget to register with us using the info@hornetsrugbyleague.com email.