25 Apr 2021
Match Report | Hornets 22-12 Crusaders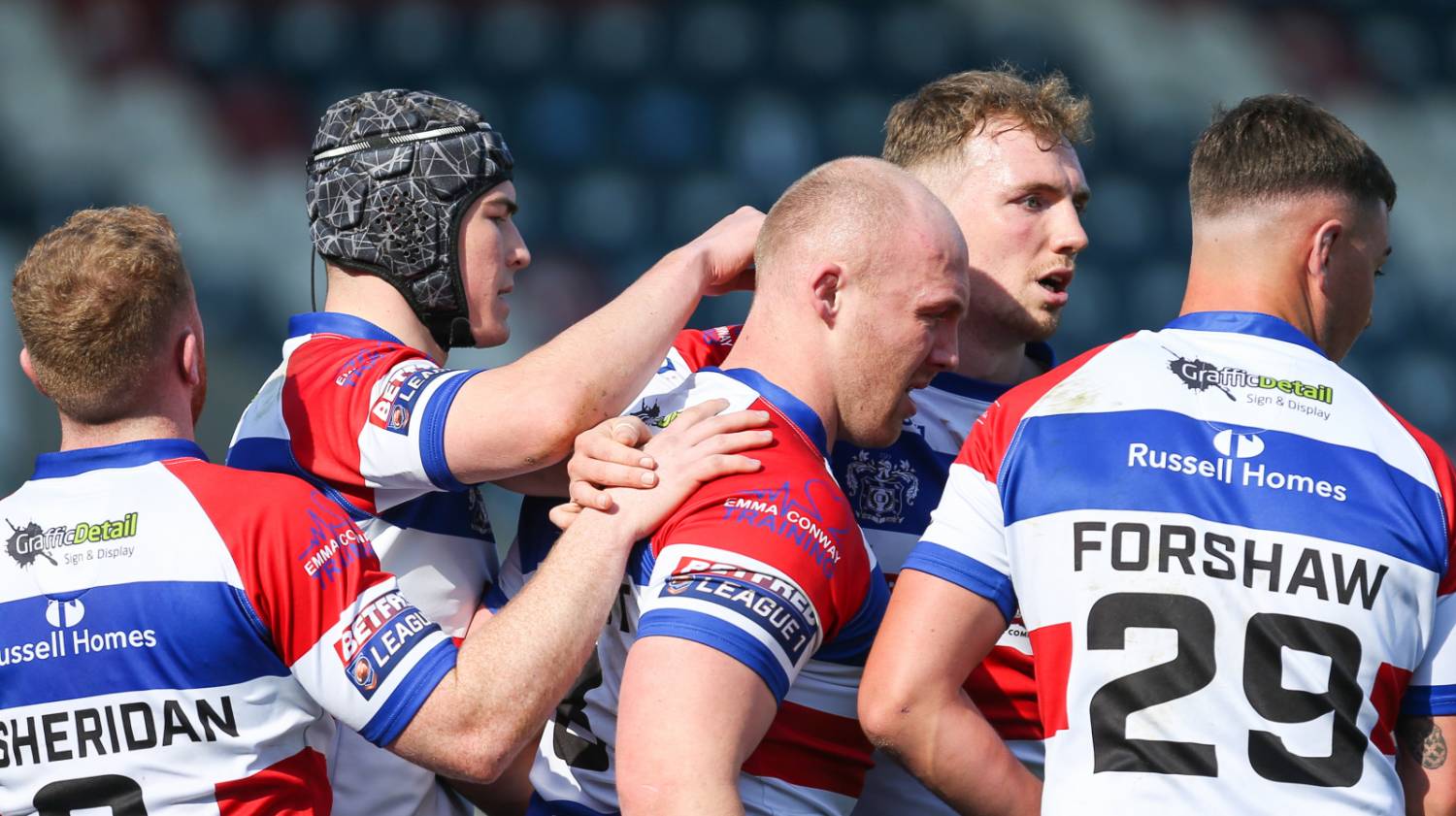 Matt Calland's side claimed the victory in their first game in over 400 days, writes Ryan Booth
Tries from Ben Calland, Danny Yates, Callum Marriott and Lee Registe saw Hornets overcome a spirited North Wales Crusaders in a feisty pre-season affair at the Crown Oil Arena.
Following the curtailment of the 2020 Betfred League 1 campaign, club Chairman Andy Mazey and Head Coach Matt Calland have worked tirelessly to orchestrate a number of high profile signings to help the team push for promotion to the Championship, with the likes of Wales international Gavin Bennion, former Hornets favourite Lewis Galbraith, talented half-back Rob Fairclough and NRL legend Fuifui Moimoi all signing on the dotted line for 2021.
Despite such a productive off-season period, Calland's side got off to a slow start when Galbraith knocked the ball on in the middle of the opening set, before Crusaders were gifted with a close-range penalty shortly afterwards.
After both Jono Smith and Karl Ashall had tries chalked off due to forward passes, the breakthrough duly arrived when centre Galbraith was sinbinned by referee John McMullen for an off-the-ball tackle on Alex Eckley. From the resulting set, some quick hands from Brad Billsborough and Ben Morris allowed Patrick Ah Van to power over in the corner, before Tom Johnson converted the resulting goal.

Although the fixture was officially a pre-season friendly, tempers flared throughout, and just moments after Galbraith's temporary removal from the field, Smith appeared to lash out at Registe following a scrappy tackle.
Ten minutes after Ah Van opened the scoring, Crusaders found themselves in again as Callum Hazzard was put through near half way, and despite the best efforts of Sam Freeman, the Crusaders forward broke clear and touched down under the sticks.
Johnson added the extras, but his stay would soon be cut short as he was dismissed for a dangerous tackle on Josh Jordan-Roberts in the 30th minute, providing Hornets with an opportunity to get a foot hold in the contest.
Johnson's dismissal proved to be the turning point as a spell of Hornets pressure finally paid dividends two minutes before the interval when Calland rose highest to collect Fairclough's high kick and ground the ball, before Jordan-Roberts converted the subsequent goal.
Although several new signings were on show, the main attraction was very much the legendary Moimoi. Despite being 40 years of age, the veteran forward oozed class throughout, and was a real focal point in attack for Hornets. If his debut performance is anything to judge him by, supporters can expect an influential season from the former Kiwi international.
Another impressive debutant was Fairclough; His arrival from Swinton Lions in the off-season excited both staff and supporters alike, and after producing such a mature, composed and dominant performance this afternoon, the 22-year-old looks certain to prove a solid acquisition.
After the break, Hornets continued their good work as Jordan-Roberts burst clear from a tackle, before flicking to the onrushing Danny Yates who strolled across the whitewash. The former then converted the subsequent goal, 12-10.
Minutes later, Crusaders were gifted with a penalty in front of the posts, which Karl Ashall calmly converted to level the scoring.
Despite the setback, Hornets regrouped and turned the game on its head through two late scores from Marriott and Registe. First, Marriott bulldozed his way over from close-range, before soon after Fairclough sent Registe over in the corner thanks to a perfectly weighted kick.
Key Stats
Hornets: Freeman, Registe, Calland, Galbraith, Bloomfield, Fairclough, Yates, Bennion, Moores, Marriott, Jordan-Roberts, Syme, Baker.
Interchanges: L.Sheridan, Taira, D.Sheridan, Moimoi, Connaughton, Fowden, Forshaw, Forster, Hesketh, Littlewood, McDaid (Trialist), Nixon, Ogden, Whalley.
Tries: Calland (38'), Yates (48'), Marriott (71'), Registe (75')
Goals: Jordan-Roberts (2/2), Fairclough (1/2)
Sinbins: Galbraith (12') – High tackle
Crusaders: Johnson, Ah Van, Morris, Hurst, Massam, Gibson, Billsborough, Brennan, Ashall, Thompson, Rodden, Smith, Eckley.
Interchanges: Ball, Calland, Brown, Barratt, Hazzard, Holmes, Reid, Cottington.
Tries: Ah Van (13'), Hazzard (23')
Goals: Johnson (1/2), Ashall (1/1)
Dismissals: Johnson (30') – High tackle
Half-Time: 6-10
Referee: John McMullen
Hornets Man of the Match: Rob Fairclough