29 Mar 2021
2021 Season Tickets NOW ON SALE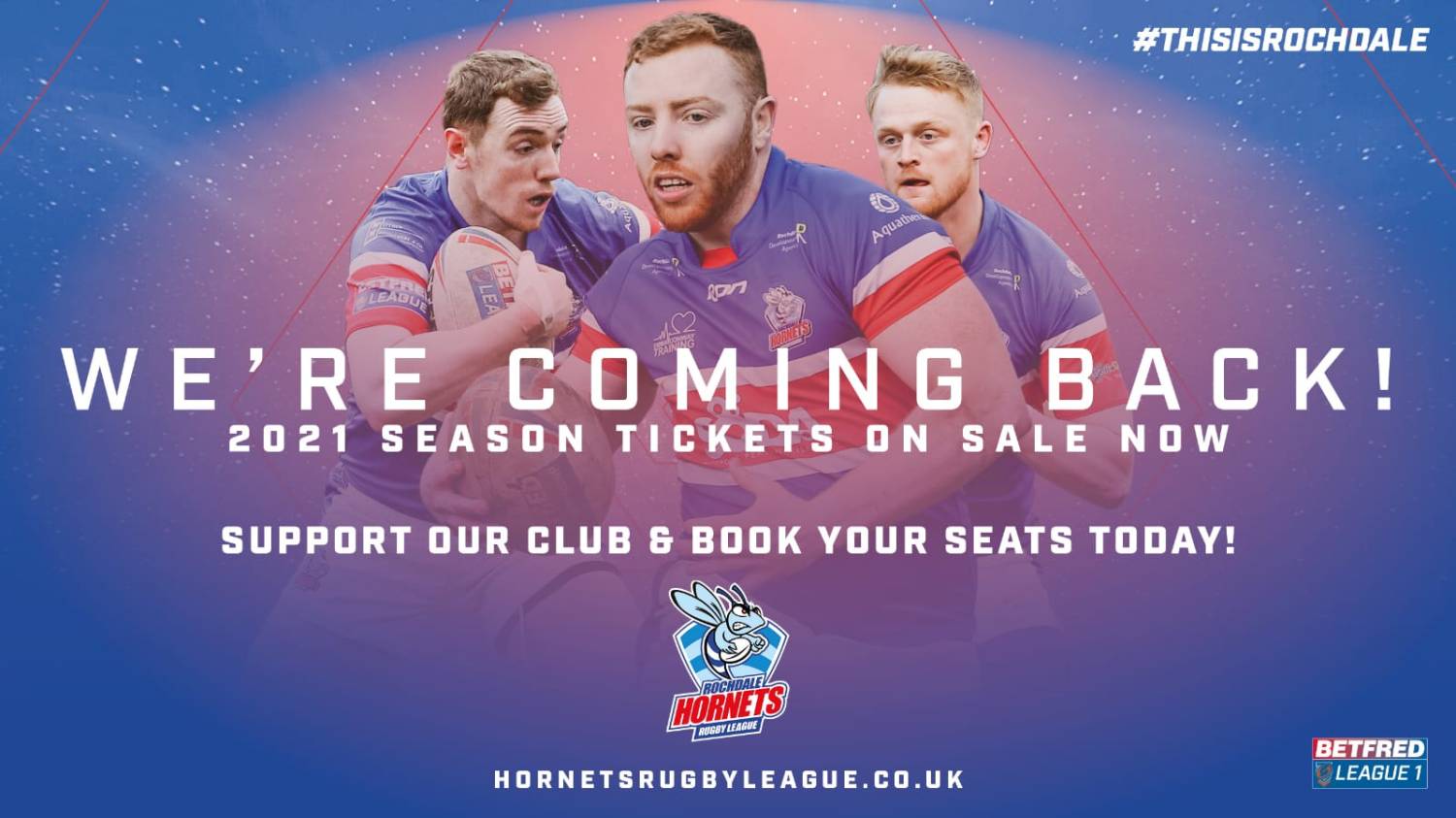 Betfred League 1 Season Tickets now available
ROCHDALE Hornets is delighted to launch our 2021 season tickets!
Partnering with Future Ticketing our NEW ticketing platform will allow fans and spectators to buy tickets online via our website.
Fans will now be able to purchase a season pass which will allow entry to all of the Betfred League 1 games played after May 17, meaning fans will see at least eight of the scheduled nine games in 2021. Our opening game on the May 9 against West Wales will be played behind closed doors, but all season pass holders will be issued with digital passes to watch the game on the OURLeague platform.
Priced at £135.00 for adults the cost of your ticket works out at £15.00 per game, whilst concessions tickets are priced at £110.00, as little as £12.22 per game. Students were originally charged the concession price but the club have lowered the price to just £20.00 (must have proof of student status), as it aims to attract a new audience to the Crown Oil Area. Our junior (U16) season passes are FREE when purchased and accompanied by an adult or concession pass holder.
Hornets will also offer a limited a number of hospitality tickets as the club face changes to their hospitality and lounge experience due to covid restrictions. See our FAQs for more details.
Speaking about the pricing, CEO Steve Kerr said: "Our fans are the most important stakeholder at the club and so we wanted to offer great value with our prices. I'm really excited by the price drop on student passes which will hopefully help us boost attendances for those at college and university.
"We've also made the junior season pass free of charge, which again underpins our commitment to make rugby league affordable for families. Attracting a new audience is vitally important to growing the club and there's some incredible names like Welsh international Gavin Bennion and rugby league veteran Fuifui Moimoi lining up for the Hornets this season in 2021. Our hospitality seats are limited this season and fans wishing to have access to the 1907 lounge are encouraged to buy these early to avoid disappointment."
Fans will also be able to choose their seat in 2021 as the stadium operates under a covid arrangement. Kerr added: "The new ticketing platform will make it easier for fans to buy passes and ticket and its something we've been wanting to implement for some time. Although fans are asked to socially distance, we've come up with a seating plan that will keep fans safe but also ensure you can sit within your bubble."
The Betfred League 1 season is going to be a very competitive as Hornets aim to gain promotion back to the Championship. We look forward to welcoming our fans back to the Crown Oil Arena.
Please view our Ticketing FAQs, Steaming FAQs, Codes of Conduct and Terms and Conditions for more information.