13 Nov 2023
2024 SEASON TICKETS ON SALE NOW!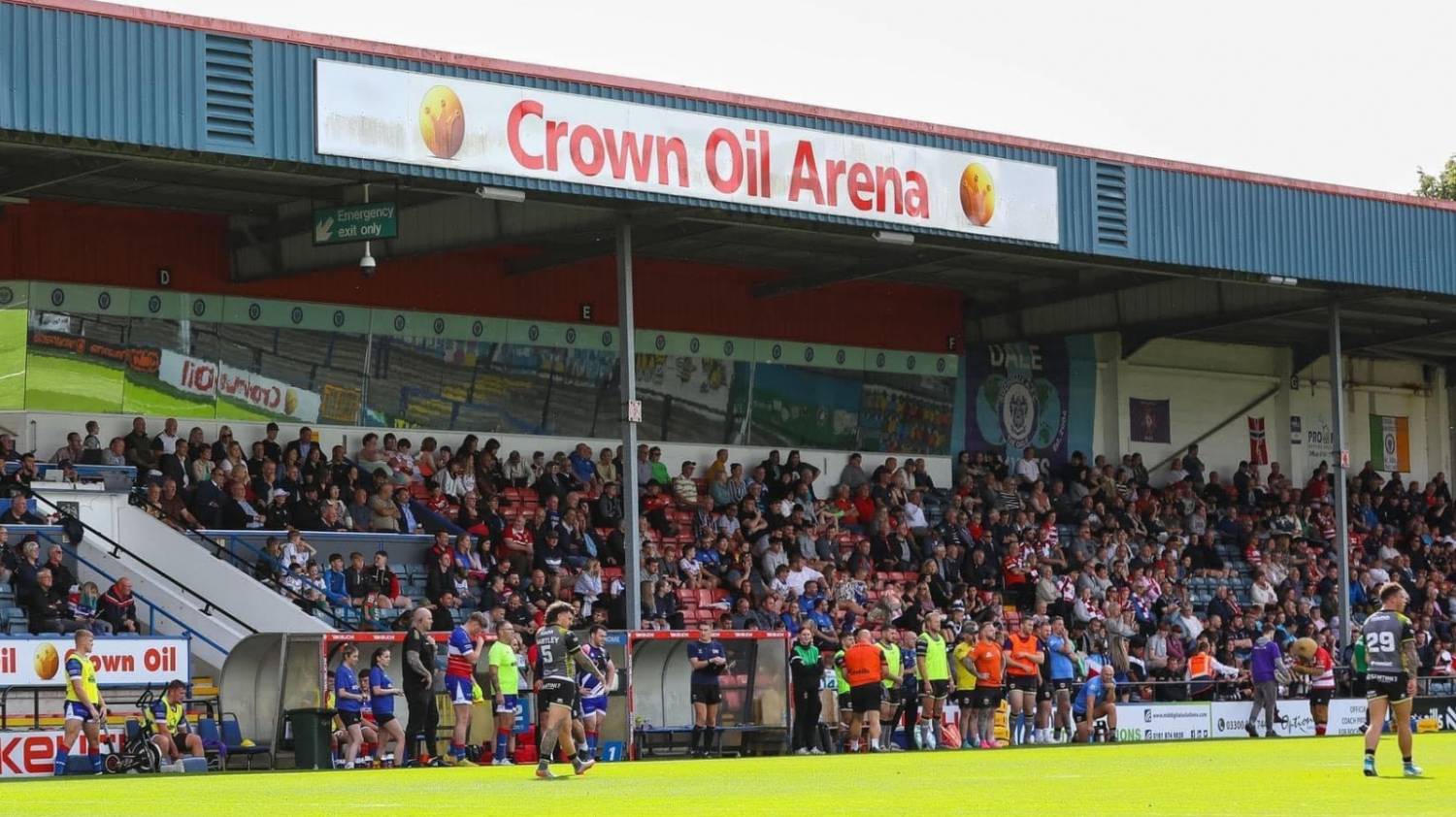 Rochdale Hornets are delighted to open the sales of Platinum Passes & Season Tickets for the 2024 Season
Rochdale Hornets is a Club that is more connected than ever before. Connected through its diverse range of teams, connected with the community and connected with its loyal supporters.
We head into the 2024 season with new excitement having retained twelve of Gary Thorntons 2023 squad. A contract extension for skipper Duane Straugheir and new and improved agreements for stand out performers Lewis Else, Aiden Roden and Dan Brewin are amongst the retentions. Thornton's class of 2024 is bolstered by the arrival of experienced operators Gregg McNally, Kenny Baker, Jordan Andrade, Luke Nelmes and Deane Meadows. Local talent Dan Nixon and Ben Killan have put pen to paper, and another local lad, Hopwood Hornets Academy product Ben Forster returns to the club from Championship outfit Halifax. Three more signings will be announced this week, supporters have every right to feel optimistic for 2024 and beyond.
Chairman Andy Mazey, who has worked closely with Coach Thornton to develop the 2024 squad said:
"The support once again this year has been magnificent and there is a real sense that the club is moving in the right direction at last. We have listened to our supporters and added size, quality and experience to the playing group. Growing our season ticket numbers and attendances is critical within the IMG framework, therefore we are making professional rugby league affordable and accessible to everyone in the Borough, in particular our young people. We have not only frozen prices on the Platinum club packages, but added value with cup games being included at no extra cost. We have also frozen adult season ticket prices, brought back concession's, and made FREE season tickets available to the tens of thousands of young people across our very own 230,000+ population "Rochdale" Borough.
We've seen some encouraging signs in 2023 since the arrival of our new General Manager Matt Rigby, particularly the themed game day events, and the Derby game against local rivals Oldham which delivered a crowd upwards of 1400. We are confident this club has now turned a corner and 2024 season ticket sales will hopefully reflect this."
Head Coach Gary Thornton added:
"The support of the Hornets fans is a crucial part of being a successful team on the field, but also growing our IMG grading scores and becoming a Grade B club.
Your support doesn't go unnoticed by myself or the staff and players, and we deeply value the significant part you play in what we can deliver on the field'.
We will once again look forward to your loyal support next season."
SEASON TICKET PRICES
Platinum club season tickets remain at just £225 for Adult's and £70 for Juniors (u16's). Adult season ticket prices are frozen at £150 with Concession's back at £100 and Student's £50. Junior season tickets (u16's) are absolutely FREE, guaranteeing access to every Betfred League One home game in 2024.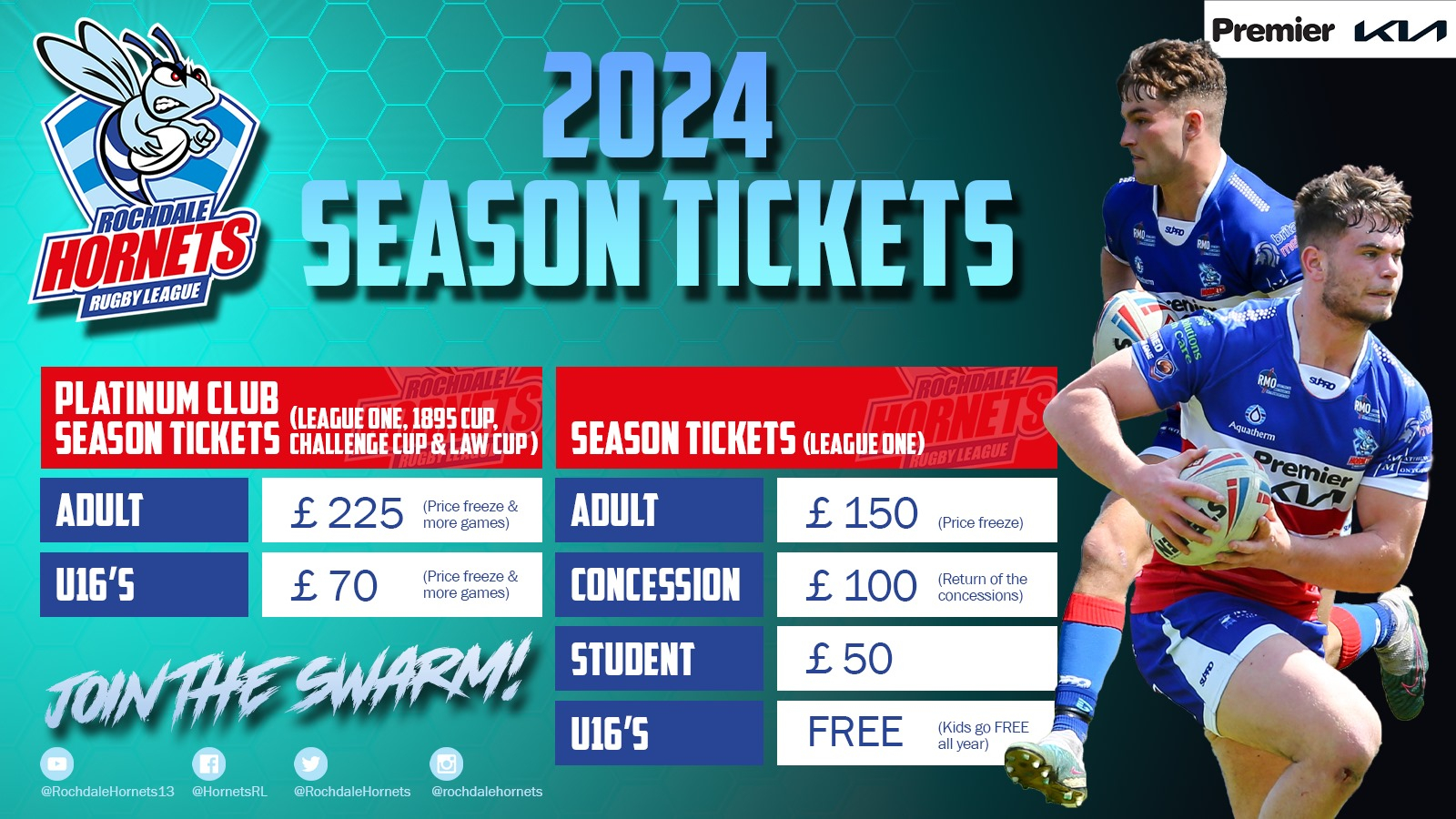 2024 ADDED VALUE & INCENTIVES
PRICE FREEZE ON PLATINUM PACKAGES WITH ADDITIONAL GAMES ADDED IN
PRICE FREEZE ON ADULT SEASON TICKET'S
KIDS GO FREE- UNLIMITED FREE SEASON TICKETS FOR UNDER 16's
HOW TO BUY
Season Tickets & Platinum Passes can be purchased here: www.hornetsrugbyleague.co.uk/tickets
To reinforce our commitment to our supporters and the local community, and in light of the ongoing cost of living situation, the club is offering a "payment in instalments option". The total cost will be split into three equal payments, an initial down payment of 33.3% will be required and a further two payments of 33.3% that are flexible for your independent circumstances. Contact to club directly to take advantage of this option. Note: Season cards will not be issued until full payment is received.
For season ticket renewals, please contact the club directly on 01706 648004 or email info@hornetsrugbyleague.com
CAR PARKING
Further details to follow in due course.