8 Nov 2023
Betfred Championship, League One and AB Sundecks 1895 Cup – 2024 structure confirmed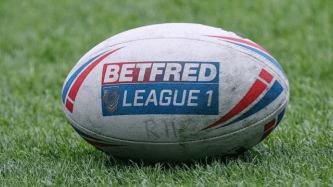 Following a meeting of Betfred Championship and League One clubs last month the RFL Board has confirmed the structure for the 2024 season – including a new, expanded format for the AB Sundecks 1895 Cup.
The Betfred Championship will continue as a 14-team competition, with the top six teams qualifying for a Play-Off series culminating in a Grand Final to determine the champions. This will be played at the home ground of the team ranked highest during the regular season.
Betfred League One will be a nine-club competition, with each side playing 20 matches – 10 at home, and 10 away. This will involve four loop fixtures for each team, to be determined by seedings based on 2023 finishing positions (a contingency model has also been devised for an eight-team competition, which would see each team play the other three times in a 21-round programme). The League One Grand Final will be played on October 6 at home ground of the team ranked highest during the regular season.
Importantly, clubs in both leagues have been invited to join a forum to consider the best structure below Super League for 2025 and beyond, the intention being to announce decisions before the start of the 2024 league competitions to provide clarity around promotion and relegation between any divisions.
And, in response to representations from League One clubs that they would benefit from being able to offer more fixtures to their supporters, a new structure has been devised for the AB Sundecks 1895 Cup – the competition introduced in 2019 to provide a second and more realistic chance for clubs outside the Betfred Super League to reach Challenge Cup Finals Day at Wembley Stadium.
In 2024 the 13 England-based Championship clubs will join eight League One clubs (Cornwall graciously agreed not to take part) in seven groups of three. Groups will be seeded and regionalised, with League One clubs awarded home advantage in any fixtures against Championship opposition. The top team in each group will qualify for Quarter Finals, joined by the best-performing second-placed team – the latter to be determined by competition points initially and then, if necessary, by points difference.
Further details will be provided when the full fixtures list for Betfred Championship, League One and the AB Sundecks 1895 Cup is published on Sunday December 3.
The first round of group fixtures in the AB Sundecks 1895 Cup will be played on the weekend of January 27-28. The remaining two rounds of group fixtures will be played in February, alternating with the early rounds of the Betfred Challenge Cup. Quarter-finals will be played on March 3, semi-finals on May 12 and the final at Wembley Stadium on Saturday June 8.
Halifax Panthers became the fourth different winners of the AB Sundecks 1895 Cup from as many finals when they defeated Batley Bulldogs 12-10 at Wembley last August. The Panthers followed Leigh Centurions (as they were then known) in 2022, who beat Featherstone Rovers 30-16 at Tottenham Hotspur Stadium; Rovers themselves in 2021 when they defeated York Knights 41-34 at Wembley Stadium and Sheffield Eagles, who were the inaugural winners in 2019 when they beat Widnes Vikings 36-18 at Wembley.