20 Jan 2022
Hornets to host Betfred Challenge Cup draw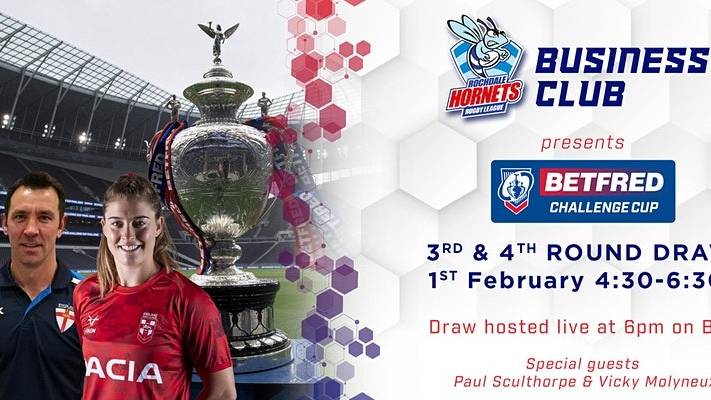 Rochdale Hornets will celebrate the centenary of their only Challenge Cup winning year in 1922 by hosting the draw for the Third and Fourth Rounds of the 2022 competition at the Crown Oil Arena on Tuesday February 1.
The draws will be conducted by Paul Sculthorpe MBE and Vicky Molyneux, and shown live on BBC Sport from 6pm.

Paul Sculthorpe, four times a Challenge Cup winner with St Helens, is now a member of Shaun Wane's England coaching team – and will return to the Crown Oil Arena in that role in October when England face Fiji in their last warm-up game before the Rugby League World Cup.
Vicky Molyneux plays for Wigan Warriors in the Betfred Women's Super League, and made an unusual slice of history in 2021 when she was recalled for her second and third England caps 14 years after her debut in 2007. She is therefore in line to play for England in the Women's World Cup competition this autumn – and has retained strong links with Rochdale, her hometown, as she has been involved in coaching Women's and Girls' Rugby League.
Hornets, who were one of the founding members of the Northern Union in 1895, enjoyed arguably their finest hour in April 1922 at Headingley, when they beat Hull FC 10-9, after victories over Broughton Moor, Leeds, Oldham and Widnes to reach the Final.
They are currently in Betfred League One and will therefore enter the 2022 Betfred Challenge Cup at the Second Round stage on Sunday week against a new name in the competition, the Midlands Hurricanes – a tie that will be streamed live by BBC Sport.
The winners of that tie will take their place with 11 other Second Round winners in the Third Round draw, with ties to be played on the weekend of February 12-13.
Sculthorpe and Molyneux will also conduct the draw for the Fourth Round, when the 14 Betfred Championship clubs enter the competition – including 10 clubs who have previously won the Challenge Cup (Barrow Raiders, Batley Bulldogs, Dewsbury Rams, Featherstone Rovers, Halifax Panthers, Leigh Centurions, Sheffield Eagles, Widnes Vikings, Workington Town and most recently Bradford Bulls in 2003).
Those ties will be played on the weekend of February 26-27.
Steve Kerr, Hornets CEO, said: "We're thrilled to host the Betfred Challenge Cup draw to mark our centenary since our 1922 Cup win.
"It was a special moment in the club's history which we are determined to mark this year - it would be great if we could progress and maybe even draw Hull FC in the later rounds of the competition.
"Cup dreams are always possible, but of course we need to beat the Midlands Hurricanes as our first opponents on Sunday week - a game we are really looking forward to, as it will also be a special occasion for our visitors as their first Cup-tie as the Hurricanes.
He concluded: "this is a special competition that every club, fan and player loves to be part of, so I'm delighted to share it with the Rochdale business community and welcome our special guests Paul Sculthorpe MBE and our very own Rochdale star Vicky Molyneux, who features in the England squad and has been busy coaching and inspiring girls in Rochdale to take up Rugby League."
Betfred Challenge Cup 2022
Second Round (12 ties) – January 29-30
Third Round (6 ties) – February 12-13
Fourth Round (10 ties) – February 26-27 – Betfred Championship clubs enter
Fifth Round (5 ties) – March 12-13
Sixth Round (8 ties) – March 26-27 – Betfred Super League clubs enter
Quarter Finals – April 9-10
Semi Finals – Saturday May 7 at Elland Road, Leeds
Betfred Challenge Cup Final 2022 – Saturday May 28 at Tottenham Hotspur Stadium