7 May 2020
Webinar: Here's what you missed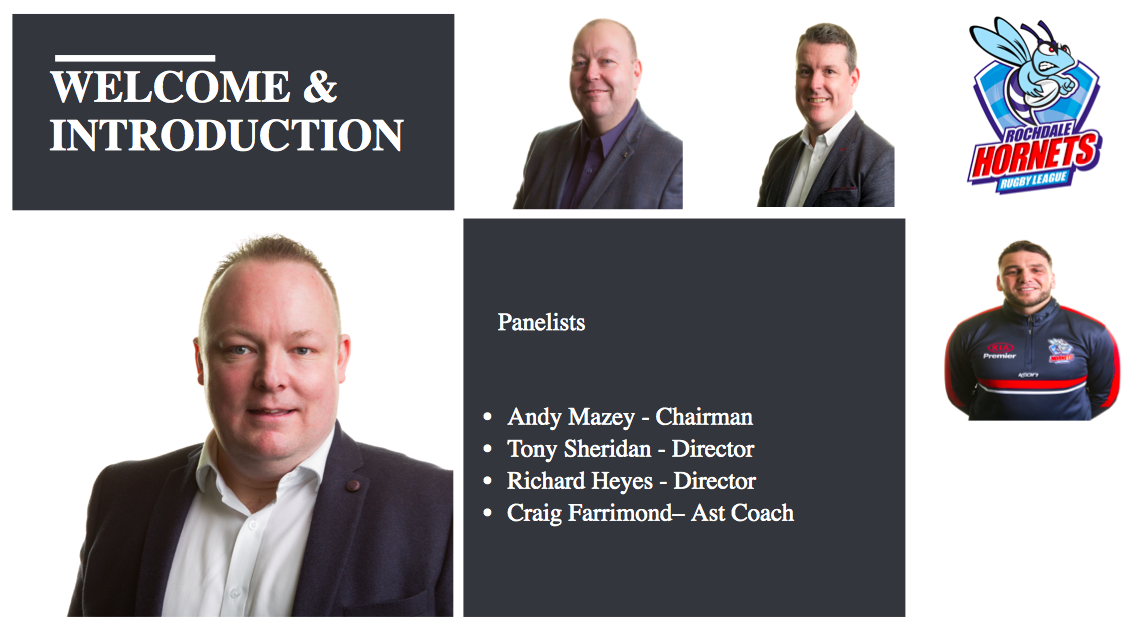 Here are some of the key points from Wednesday night's webinar.
Club update with incoming Chairman Andy Mazey

- Club using furlough scheme on full-time staff members to protect the jobs, positions and the club.
- We would like to assure people that we are working closely with the governing body, stakeholders and clubs and we're all working together on various different scenarios, models and plans to hopefully, when it's safe, in a position to restart. We all want to be in a strong position as possible and ready to hit the ground running again.
- While it's a difficult situation, we are all ready to keep the ship going in the right direction. Now is the time to really rally and come together.
Squad and injury update with Craig Farrimond
- Miles Greenwood, Craig Farrimond and the staff have been keeping the lads active during quarantine, including a 5k challenge and an hour's bike ride.
- Farrimond also said: "Miles, our conditioner, is doing great work behind the scenes and has done a lot of individual programmes for the players, including weights, rehab for the injured boys, conditioning for the forwards and for the staff and trying to keep morale going."
- Shaun Ainscough has recovered from his ankle injury and has said he is fit and carrying out his rehab program from home set by the physio.
- Sam Freeman has undergone groin injury before lockdown, he is running and fit and is doing his programme from home.
- Jimmy Connaughton picked up an injury in pre-season with his shoulder and his doing his rehab programme and is good to go.
- Callum Ogdem had a shoulder injury which required surgery and is good to go and is feeling fit.
- Sean Penkywicz picked up a knee injury, but with the break he has done his rehab from home and our physio Matt has been doing a lot of one-to-one.
Club initiatives, Foundation and sustainability with Tony Sheridan.
- We are in a good position as a club but the initiatives are very important.
- Squad builder and lottery have both recently been launched online to help support the club. Over 120 pledged to the club through the lottery, and £400 worth of direct debits are helping support squad builder and is very much appreciated by the club.
- Online auction has also been launched, and there is a great variety of Hornets items, including Hornets player for the day, new signing experience, Director for the day and much more.
- Club shop is now also online, with Hornets shirts and merchandise available in partnership with Icon Sports UK.
- On the Foundation, Sheridan added: "What we've seen is some fantastic work over the last 12 months and moreover what's being done at the moment to put absolute solid foundations for the Foundation. There are two big principles. One to really engage the community in all ways possible and that's from youth engagement that feeds through to Hopwood College and getting players on our pitch with it being through our ladies team, wheelchair team or first team; Secondly getting fans in the stands."
- We want to work with businesses to engage with the club to help give back to the community. Let's work together.
Engagement, Our League and social media with Richard Heyes
- Our objectives are to improve the coverage for the club and we've been building relationships with rugby league journalists and in Rochdale with Rochdale Observer and Rochdale Online and we're hoping to keep that momentum going.
- We want to keep fans informed and engaged and help promote the club to a new audience with increased social media activity.
- Central funding is dependent on an ROI model, and fans are encouraged to follow us on all social media channels.
- Fans can support the club by signing up to Our League via the website or the app and register and select Rochdale Hornets as your club (it's free!).
- Fans are also encouraged to regularly visit the website, with page visits and statistics also helping towards the ROI model.
- A newsletter has been launched and fans are encouraged to sign up at the bottom of our homepage for monthly engaging and exclusive content.
Our thanks to the Governing Body and Rochdale Council
Andy Mazey said: "I'd like to place on record our thanks and respect to the RFL, whose communication and leadership has been absolutely excellent. It's been widely documented and a lot of people of the game have commented and I can only say in times of trouble, the governing body has really stepped up for its stakeholders.
He continued: "The loan is another example of the great work they have been doing during this crisis. It's important that funding has been secured as it's all about the sport as a whole coming out of the other end of this crisis and the sport is the important thing.
"I'd like to go on record to thank the council for their support. That has been imperative in the build up to the season as we were getting to grips with things and since the Covid-19 situation there has been some real positive and strong support from the council and the leadership."
To watch the full webinar, CLICK HERE